How to order Clover Spring beef
Current availability:
100% grass-fed beef portions with all meat cuts:
$3.50/lb hanging weight plus butchering costs (see chart below for estimates)
All-Natural Grass fed beef is now available.
Information is provided below to assist you with your order but if you have any questions or just want to buy beef, give us a call and we will be more than happy to walk you through the process.
If you prefer you can make a down payment online.
If you are not familiar with us, you may want to read about how our grass-fed beef is produced and how it is best prepared.

Cattle can be purchased as a whole, half or quarter of a cow. Each quarter or half gets the same proportions of meat cuts.
Our Black Angus have been bred for optimal performance on grass alone and thus tend to be smaller than a typical Angus. When they are ready for butchering, our Angus weigh around 1050 pounds "on the hoof" and after they are dressed by the butcher the typical hanging (carcass) weights are 600 lbs.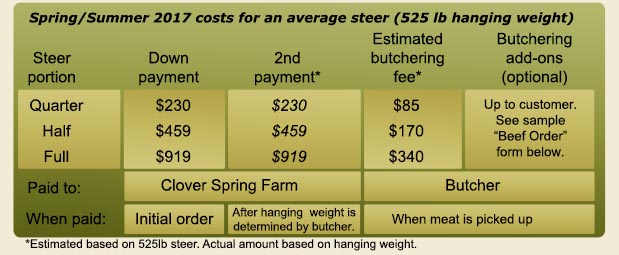 All beef comes from our own steers or heifers (unbred females) that are 20-24 months of age. This ensures optimal tenderness, marbling, and price per pound. You may notice that our cattle are 2-4 months older than cattle raised on feedlots. Because we don't force our cattle to inhale rich grains, they take 2-4 months longer to fill out.
To start the process we need a 50% down payment for the beef based on an estimated hanging weight of 600 pounds. Once the butcher determines the actual hanging weight, the second half of the payment for the cow is adjusted and is due before you receive your meat. Because the butchering costs vary with the hanging weight and the options selected, customers pay the butcher directly for the butchering costs when the meat is picked up or delivered. Delivery is available for a reasonable fee.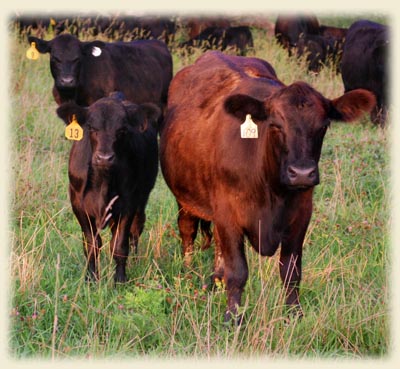 If you would like to purchase less than one quarter, it is best to find another family to share a quarter with since it is not possible to distribute the cuts evenly when splitting a quarter. If you are looking to someone to share a quarter with let us know and we may be able to help.
Cattle are taken to one of two local butchers:
Martin's Custom Butchering
405 Reidenbach Road
New Holland, PA 17557
Ph: 717-355-9601
Galvinell Meat Co.
461 Ragan Rd.
Conowingo, MD 21918
Ph : 410-378-3032
Both butchers dry age the beef to increase tenderness and offer a variety of cuts as well as delicious custom products. All cuts are vacuum-sealed, labeled and quickly frozen to ensure freshness and long storage life. Selecting the cuts can be confusing. Some cuts have local names that you may not be familiar with. Below is some information to assist you but many customers will find it easier to complete the butchering order form over the phone with the butcher's assistance. Both butchers are more than happy to assist in this process.
ORDER FORMS
To the right is Martin's Order Form with the most popular cuts for grass-fed beef selected. For some items that require more labor or have added ingredients, the additional charge for Fall 2012 is noted. (The additional charges listed are just given here to assist our customers. Martin's may change these prices at any time.) Gavinell Meat Co. has similar options and pricing.
Typical yields from a half steer are:
5-8 Chuck Roasts
4-6 Arm Roasts
10-15 Rib Steaks OR 8- 12 Ribeyes
1 Beef Brisket
1 Flank Steak
3-4 Tip Roasts OR 6-8 Tip Steaks
1 Rump Roast
5 London Broil OR 8-10 Round Steaks
1 Bottom Round Roast OR 15-20 Cube Steaks
1 Eye of Round Roast
5-8 Sirloins Steaks
4-6 Porterhouse Steaks
10-12 T-Bone Steaks
Lot's of hamburger
Popular add-ons are chip steak (think "Philly cheese steak"), sweet bologna, beef sticks, hot dogs, scrapple and several varieties of sausage.
Helpful Notes
Dress weight: usually about half of this will be steaks and roasts. Standard roasts: Weigh 2-3 lbs.
Delmonico steak: From rib area. Excellent.
Rib steak: Rib meat without bone.
Hamburger: Select pounds per vacuum pack.
Patties: Preformed into patties with seasoning. Selected number of patties per vacuum pack.
Chip steak: The meat in Philly cheese steaks. Usually use round or rump roast but can come from various cuts of meat. Fat and bones are cleaned from the cut, meat is frozen at very low temperature, then sliced very thinly while still frozen.
Sweet Bologna: $0.70/lb of bologna, $0.40/pound to slice & vac pack, $0.25/lb vac pack only.
Dry beef: Usually use a roast; dry it down, chip it, use in gravy.
Top blade roast: Not listed on form but can be requested. Highly recommended. Very moist.