Hay and Straw sales
Our primary grass hay is an Orchard Grass mixed with about 20% Red and White Clover. The grass and clover balance each other nicely and provide a horse feed with a near optimal balance of TDN (total digestible nutrients), protein and fiber. We have some fields of primarily high-protein fescue that provides excellent feed for cattle or non-breeding horses. And we also produce alfalfa as hay and baled silage.
We do not grow certified organic hay but as of October 2017 our hay fields have been pesticide-free for 8 years.
Inventory and prices as of November, 2017:
Barley straw: SOLD OUT

Orchard grass clover mix: SOLD OUT. First cut this year will be available in June.

Alfalfa: SOLD OUT.
Prices are for pickup on the farm. We can help load. Deliver available for a reasonable fee.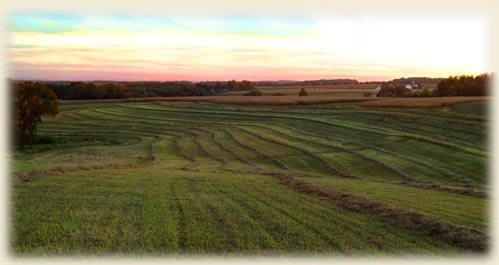 Abbreviations:
SSB: small square bales, usually 14"x18"x40"

LSB: large square bales, usually 3'x3'x8'

LRB: large round bales, usually 4'x5'

P+: baled with preservative; usually because of slightly higher moisture content; often yields the most nutritious hay
Grades:
Premium: The best hay. Usually 2nd, 3rd or 4th cut. Leafy with fine stems. Cut slightly early so that the leaf to stem ratio is very high.
Quality: Similar to premium but cut at traditonal grass hay maturity (just before seed heads emerge).
Mid-Grade: Mid-grade is a great value. It is discounted because it may have color variations; it might have been baled a little dry; it could have been on the bottom of the stack or any number of reasons. Nutritionally, it is good mold-free hay.
Cow hay: Cow hay is the least expensive hay we offer. Not recommended for horses. It may have been rained on, so there could be slight mold, or there may be a higher than normal amount of dirt in the bale.
Types:
Orchard grass: The second and third cuttings produce a nice soft green grass that horses love. This grass has high levels of protein and energy.
Clover: A legume with greater digestibility than alfalfa.
Fescue: Fine-stemmed grass with high protein levels. May be endophyte-free or may contain endophytes.
Alfalfa: High in protein and is a highly digestible fiber. For horses, typically the middle cutting is the best.
Straw: Clean conditioned (so it is softer) straw from wheat, barley or oats. Great for bedding.